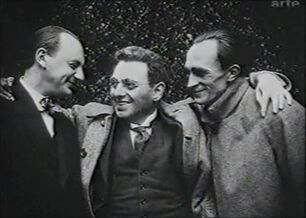 Unheimliche Geschichten (Uncanny Stories) is a 1919 German horror/black comedy film directed and produced by the prolific Austrian film director Richard Oswald, starring Conrad Veidt, Anita Berber and Reinhold Schünzel.
This was an anthology film combining five stories framed by a narrative set in a book shop (a technique later used for Paul Leni's Waxworks). Portraits of a Strumpet, Death, and the Devil come to life and amuse themselves by reading stories--about themselves, of course, in various guises and eras. The stories used were: The Black Cat; The Suicide Club; Anselme Heine's Die Erscheinung; co-scripter Robert Liebmann's Die Hand; and Oswald's own Der Spuk.
Survival Status
Edit
Surviving prints of the film were edited together in Europe and shown as a whole feature at the annual Luminato arts festival in Toronto in June 2009.[1]
References
Edit
Cite error: <ref> tags exist, but no <references/> tag was found
Ad blocker interference detected!
Wikia is a free-to-use site that makes money from advertising. We have a modified experience for viewers using ad blockers

Wikia is not accessible if you've made further modifications. Remove the custom ad blocker rule(s) and the page will load as expected.