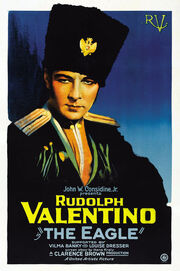 The Eagle is a film starring Rudolph Valentino. Valentino portrays Russian lieutenant Vladimir Dubrovsky.
PLOT SYNOPSIS
When Dubrovsky's father is murdered to in an attempt to take over his family's property in 18th century Russia, Dubrovsky becomes a masked vigilante/highwayman called The Black Eagle to set things right. He falls in love with the daughter of his enemy.
The Black Eagle is a Robin Hood/Zorro/Dr. Syn type of a hero.
Ad blocker interference detected!
Wikia is a free-to-use site that makes money from advertising. We have a modified experience for viewers using ad blockers

Wikia is not accessible if you've made further modifications. Remove the custom ad blocker rule(s) and the page will load as expected.