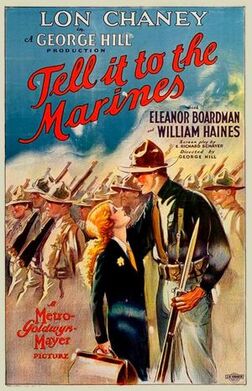 Tell It to the Marines is a 1927 silent movie starring Lon Chaney and directed by George W. Hill. The film was the biggest box office success of Chaney's career and involves the adventures of a Marine sergeant.
Skeet Burns goes to San Diego, California on the pretext of joining the Marines, then skips to Tijuana on arrival. Later, he returns, penniless and hungry, and under Sergeant O'Hara's care he joins the Leathernecks. Skeet becomes enamored of Norma Dale, a commissioned Navy nurse, but on tour duty in the Philippines he is taken with Zaya, a native girl, and incurs the wrath of her friends. Hearing of the affair, Norma breaks off with Skeet, and the latter blames his misfortune on O'Hara. Norma is ordered to Hangchow, and when news arrives that her party is endangered by Chinese bandits, the Marines rescue the beleaguered whites; O'Hara is wounded in the fighting but is happy because he has at last made a man of Skeet. After his hitch, Skeet leaves the service and his friend O'Hara behind, promising Norma that he will wait for her.
Lon Chaney ... Sgt. O'Hara
William Haines ... Pvt. George Robert 'Skeet' Burns
Eleanor Boardman ... Nurse Norma Dale
Eddie Gribbon ... Cpl. Madden
Carmel Myers ... Zaya (a native)
Warner Oland ... Chinese bandit leader
Mitchell Lewis ... Native starting fight
Frank Currier ... Gen. Wilcox
Maurice E. Kains ... Harry (as Maurice Kains)
Background
Edit
Premiered in New York City on December 23, 1926.
MGM brought in General Smedley D. Butler, commander of the Marine base in San Diego, for technical consultation on the film. Lon Chaney formed a close friendship with Marine Corps General, which lasted for the rest of Chaney's life.
The studio was also allowed to shoot on the base which made Tell It to the Marines the first motion picture made with the full cooperation of the U.S. Marine Corps. Battleship Template:USS (later involved in the attack on Pearl Harbor on December 7, 1941) was used for the scenes at sea and the final sequence of the film, where the marines rescue the hostages, was filmed at Iverson's Ranch in Chatsworth, California, the location for such films as Fort Apache and The Good Earth.
A writer in Leatherneck Magazine wrote that "few of us who observed Chaney's portrayal of his role were not carried away to the memory of some sergeant we had known whose behavior matched that of the actor in every minute detail ..."
For his role in the film, Chaney became an Honorary Marine, the first film star to do so.
References
Edit
Article on Tell It to the Marines at the TCM database
External links
Edit