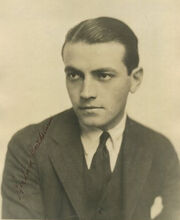 Richard "Dick" Semler Barthelmess (May 9, 1895 – August 17, 1963) was an Oscar-nominated silent film star.
The son of an actress, Barthelmess began acting in college, doing amateur productions. Convinced by a family friend, actress Alla Nazimova, to try acting professionally, he made his first film appearance in 1916 in the serial Gloria's Romance as an extra. His next role, in War Brides opposite Alla Nazimova, attracted the attention of legendary director D.W. Griffith, who offered him several important roles, finally casting him opposite Lillian Gish in Broken Blossoms (1919) and Way Down East (1920).
In the coming years, he was one of Hollywood's highest paid performers, starring in such classics as The Patent Leather Kid (1927) and The Noose (1928); he was nominated for Best Actor at the first Academy Awards for his performance in both these films. He also founded his own production company, Inspiration Film Company, together with Charles Duell and Henry King. One of their films, Tol'able David (1921), in which Barthelmess starred as a teenage mailman who finds courage, was a major success, and is considered by many to be his finest performance.
With the advent of the sound era, Barthelmess' fortunes changed. He made several films in the new medium, most notably Son of the Gods (1930), The Dawn Patrol (1930), The Last Flight (1931), and The Cabin in the Cotton (1932), Central Airport (1933), and a supporting role as Rita Hayworth's character's husband in Only Angels Have Wings (1939). However, he failed to maintain the stardom of his silent film days and gradually left entertainment. He enlisted in the Naval Reserve in World War II, served as a lieutenant commander, and never returned to film, preferring instead to live off his investments. He died of cancer in 1963 and was interred at the Ferncliff Cemetery and Mausoleum in Hartsdale, New York, Westchester County, NY , USA.
Barthelmess was one of the founders of the Academy of Motion Picture Arts and Sciences.
For his contribution as an actor, Richard Barthelmess was awarded a star on the Hollywood Walk of Fame.
Selected filmography
Edit
References
Edit
External links
Edit
Ad blocker interference detected!
Wikia is a free-to-use site that makes money from advertising. We have a modified experience for viewers using ad blockers

Wikia is not accessible if you've made further modifications. Remove the custom ad blocker rule(s) and the page will load as expected.