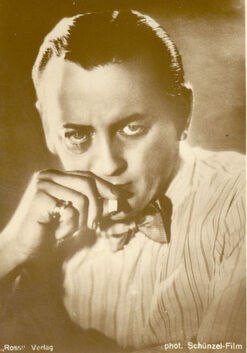 Reinhold Schünzel (November 7, 1888 – September 11, 1954) was a German actor and film director.
Life and work
Edit
Schünzel was born in St. Pauli, Hamburg in 1888. After his business studies he began acting on stage in Hamburg, Bern and Berlin. He made his film debut in 1916, starring in Im Banne des Schweigens . He was discovered by director Richard Oswald and appeared in several of his films. Around 1918 Schünzel got into directing and created a series of comedies in which he appeared as both an actor and producer.
Partial filmography
Edit
As Actor
Edit
1919 Die Prostitution
1919 Madame Dubarry
1919 Unheimliche Geschichten (Eerie Tales)
1920 Nachtgestalten
1920 Katherina die Große
1921 Lady Hamilton
1928 Adam und Eva
1931 1914, die letzten Tage vor dem Weltbrand
1931 Die Dreigroschenoper
1943 Auch Henker sterben (Hangmen Also Die!)
1946 Berüchtigt (Notorious)
1954 Meines Vaters Pferde
As Director
Edit
1920 Katherina die Große
1923 Alles für Geld
1930 Liebe im Ring
1933 Viktor und Viktoria
1935 Amphitryon
1936 Das Mädchen Irene
1937 Land der Liebe
1939 The ice follies of 1939
Ad blocker interference detected!
Wikia is a free-to-use site that makes money from advertising. We have a modified experience for viewers using ad blockers

Wikia is not accessible if you've made further modifications. Remove the custom ad blocker rule(s) and the page will load as expected.