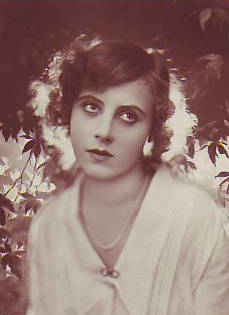 Ossi Oswalda (February 2, 1899 – January 1, 1948), born Oswalda Stäglich, was a German actress, who mostly appeared in silent films.
Oswalda trained as a ballerina and became a dancer for a theater in Berlin. She made her film debut in Richard Oswald's Nächte des Grauens (Night of Horrors) before being discovered by the actor and screenwriter Hanns Kräly, who in turn recommended her to director Ernst Lubitsch. During her early career, she starred in several films by Lubitsch, including The Merry Jail, I Don't Want to Be a Man, The Oyster Princess and The Doll. Her popularity at the time earned her the nickname 'The German Mary Pickford'.[1]
In 1921, Oswalda started her own film production company with her husband at the time, baron Gustav von Koczian. However, during the next four years they only produced four films, all starring Oswalda. From 1925 on, she was contracted to Ufa.
Oswalda's career waned along with the silent film era, and she only acted in two sound films, making her final appearance on screen in the 1933 film The Star of Valencia. Later on, she became a stage actor, and in 1943, wrote the story for the Czechoslovakian film Ctrnáctý u stolu. Oswalda died in Prague at the age of 48, completely impoverished.
Filmography
Edit
Silent films
Edit
Der Hilferuf, 1916
Leutnant auf Befehl, 1916
Der Tod auf Zeche Silva, 1916
Der G.m.b.H.-Tenor, 1916
Das Fidele Gefängnis (The Merry Jail), 1917)
Ossi's Tagebuch, 1917
Wenn vier dasselbe tun (When Four Do the Same), 1917
Prinz Sami, 1917
Dem Licht entgegen, 1918
Das Mädel vom Ballett (The Ballet Girl), 1918
Der Rodelkavalier, 1918
Ich möchte kein Mann sein (I Don't Want to Be a Man), 1918
Das Schwabemädle, 1918
Meine Frau, die Filmschauspielerin (My Wife the Movie Star), 1918
Das Mädchen aus dem Wilden Westen, 1919
Das Millionenmädel, 1919
Die Austernprinzessin (The Oyster Princess), 1919
Die Puppe (The Doll), 1919
Hundemamachen, 1919
Die Wohnungsnot, 1919
Kakadu und Kiebitz, 1920

Putschliesel, 1920
Ein Weihnachtsfilm für Grosse, 1924
Niniche, 1924
Blitzzug der Liebe, 1925
Das Mädchen mit der Protektion, 1925
Herrn Filip Colins Abenteuer, 1925
Gräfin Plättmamsell, 1926
Die Fahrt ins Abenteuer (The Wooing of Eve), 1926
Schatz, mach' Kasse, 1926
Die kleine vom Varieté, 1926
Eine tolle Nacht, 1926
Das Mädel auf der Schaukel, 1926
Florette e Patapon, 1927
Es zogen drei Burschen, 1927
Wochenendbraut, 1927
Eddy Polo mit Pferd und Lasso, 1928
Die Vierte von rechts, 1928
Das Haus ohne Männer, 1928
Ossi hat die Hosen an (Sir or Madam) , 1928
Der Dieb im Schlafcoupée, 1929
Sound films
Edit
Der keusche Josef, 1930
Der Stern von Valencia (The Star of Valencia), 1933
External links
Edit