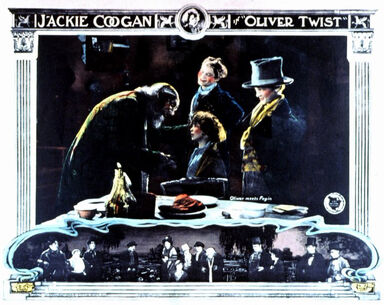 Oliver Twist is a 1922 silent film adaptation of Charles Dickens' Oliver Twist featuring Lon Chaney as Fagin, and Jackie Coogan as Oliver. Directed by Frank Lloyd.
Synopsis
Edit
Oliver's mother, a penniless outcast, died giving birth to him. As a young boy Oliver is brought up in a workhouse, later apprenticed to an uncaring undertaker, and eventually is taken in by a gang of thieves who befriend him for their own purposes. All the while, there are secrets from Oliver's family history waiting to come to light.
Cast (in credits order)
Edit
Background
Edit
The film was considered lost until a print surfaced in Yugoslavia in the 1970s.Template:Fact The print lacked intertitles, which were subsequently restored by Blackhawk Films with the help of Jackie Coogan and Sol Lesser.
DVD release
Edit
On June 30, 2009, a Region 0 DVD of the movie was released by Alpha Video.[1]
References
Edit
References
Edit
External links
Edit
Ad blocker interference detected!
Wikia is a free-to-use site that makes money from advertising. We have a modified experience for viewers using ad blockers

Wikia is not accessible if you've made further modifications. Remove the custom ad blocker rule(s) and the page will load as expected.