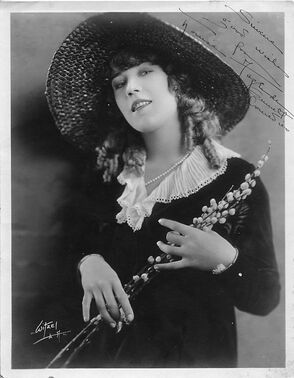 Louise Fazenda (June 17, 1895 - April 17, 1962) was an American film actress, appearing chiefly in silent comedy films.
Early life
Edit
She was born in Lafayette, Indiana. Her father, Joseph Fazenda, was a merchandise broker. After moving west Louise attended Los Angeles High School and St. Mary's Convent. Before trying motion pictures, she worked for a dentist, a candy store owner, and a tax collector.
Fazenda got her start in comedy shorts as early as 1913 with Joker Studios, frequently appearing with Max Asher and Bobby Vernon. She was soon recruited for Mack Sennett's troupe at Keystone Studios.
As with many Keystone actors, Fazenda's star soon grew larger than Sennett was willing to pay for, and she left Sennett in the early 1920s for better roles and more money. She took a break from making motion pictures in 1921-1922 in order to try vaudeville. Fazenda appeared in a variety of shorts and feature-length films throughout the decade. By the advent of sound pictures, Fazenda was a highly paid actress, making movies for nearly all of the big studious. Fazenda continued through the 1930s, appearing mostly in musicals and comedies. Her skill was in performing character roles. She played such diverse parts as a fussy old maid and a lady blacksmith. She was once accurately described as a plain-looking woman but a highly gifted character comedienne.
Marriage and death
Edit
In 1927 Fazenda married noted Warner Brothers' producer Hal B. Wallis, a union which lasted until her death. They had one son, Brent, who became a psychologist in Florida.
Fazenda's last screen appearance came in 1939. She spent the remainder of her years enjoying life as an art collector until her death caused by a cerebral hemorrhage. Hal Wallis was in Hawaii making a film and left immediately for home. She was interred at the Inglewood Park Cemetery in Inglewood, California. Louise Fazenda has a star on the Hollywood Walk of Fame at 6801 Hollywood Blvd.
References
Edit
Selected filmography
Edit
External links
Edit