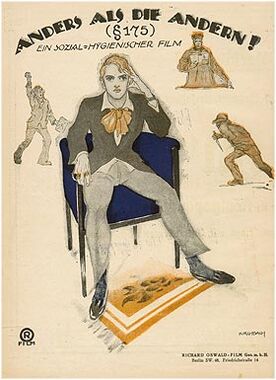 Different From The Others (Anders als die Andern) is a German film produced during the Weimar Republic. It was first released in 1919 and stars Conrad Veidt and Reinhold Schünzel.
The story for Anders als die Andern was written by Richard Oswald with the assistance of Dr. Magnus Hirschfeld, who also had a small part in the film and partially funded the production through his Institut für Sexualwissenschaft (Institute for Sexual Science), with the aim of presenting the story as a polemic against the then current laws under Germany's Paragraph 175. Paragraph 175 made homosexuality a punishable offense, causing many men to be placed in the same position as the character portrayed by Veidt.
The cinematography was by Max Fassbender, who two years previously had worked on Das Bildnis des Dorian Gray, one of the earliest cinematic treatments of Oscar Wilde's classic tale of narcissism, The Picture of Dorian Gray. Director Richard Oswald later became a director of some considerable note, as did his son Gert. Veidt of course became a major film star the year after Anders was released, in The Cabinet of Dr. Caligari.
Anders als die Andern is noteworthy as one of the first sympathetic portrayals of homosexuals in the cinema. Censorship laws enacted in reaction to films like Anders als die Andern eventually restricted viewing of this movie to doctors and medical researchers, and prints of the film were among the many "decadent" works burned by the Nazis after their regime came to power in 1933. Some portions of the film have survived, and can be viewed today as an invaluable glimpse at both cinematic history and homosexual history.
Conrad Veidt as Paul Körner
Leo Connard as Körner's Father
Ilse von Tasso-Lind as Körner's Sister
Alexandra Willegh as Körner's Mother
Ernst Pittschau as Sister's Husband
Fritz Schulz as Kurt Sivers
Wilhelm Diegelmann as Sivers' Father
Clementine Plessner as Sivers' Mother
Anita Berber as Else
Reinhold Schünzel as Franz Bollek
Helga Molander as Mrs. Hellborn
Magnus Hirschfeld as Arzt
Karl Giese as Paul Körner als Schüler
External links
Edit
Ad blocker interference detected!
Wikia is a free-to-use site that makes money from advertising. We have a modified experience for viewers using ad blockers

Wikia is not accessible if you've made further modifications. Remove the custom ad blocker rule(s) and the page will load as expected.