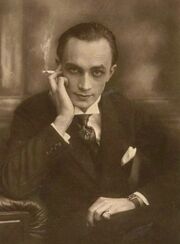 Conrad Veidt (January 22 1893 – April 3 1943) was a German actor, remembered for his roles in such films as The Cabinet of Dr. Caligari (1919), The Thief of Bagdad (1940) and Casablanca (1942). He also served as the inspiration for the appearance of the comic book supervillain Joker through his role as Gwynplaine in The Man Who Laughs. [1]
Early life and work
Edit
He was born Hans Walter Conrad Weidt in a working-class district of Berlin, Germany. (Some biographies wrongly state that he was born in Potsdam, probably on the basis of an early claim on his part.) From 1916 until his death, he appeared in well over 100 movies. He appeared in two of the most well-known films of the silent era: as a murderous somnambulist in director Robert Wiene's The Cabinet of Dr. Caligari (1920) with Werner Krauss and Lil Dagover and as a disfigured circus performer in The Man Who Laughs (1928). According to the Los Angeles Times, "Conrad Veidt starred in this semi-silent film based on Victor Hugo's novel in which the son of a lord is punished for his father's disrespect to the king by having his face carved into a permanent grin.
Veidt also appeared in Magnus Hirschfeld's pioneering gay rights film Anders als die Andern (Different from the Others 1919), in which he played what is probably the first gay character written especially for the cinema, and in Das Land ohne Frauen (1929), Germany's first talking picture.
Life in England
Edit
Veidt fervently opposed the Nazi regime, motivating him to emigrate from Germany in 1933 a week after marrying Illona Prager, a Jewish woman. He settled in the United Kingdom and became a British citizen in 1938.
He continued making films in Britain, notably three with director Michael Powell : The Spy in Black (1939), Contraband (1940) and The Thief of Bagdad (1940).
Later career
Edit
In the 1940s he moved to Hollywood, and starred in a few films, such as Nazi Agent (1942), in which he had a dual role as a Nazi and as the Nazi's twin brother, but his best remembered role was as Major Heinrich Strasser in Casablanca (1942).
He died suddenly of a heart attack a year later while playing golf in Los Angeles.
Popular culture
Edit
Comic book artist Bob Kane, writer Bill Finger and artist Jerry Robinson used stills of Veidt in The Man Who Laughs as inspiration for the iconic supervillain Joker. The creators have long disputed who actually came up with the character.[2]
Veidt sang the title song Where the Lighthouse Shines Across the Bay (in some territories) of the 1933 film F.P.1. It flopped at the time, but became a hit in the United Kingdom in 1980 after DJ Terry Wogan played it as a request on his breakfast show. Afterwards he was inundated with repeat requests.
Personal life
Edit
It's been reported, though not verified, that Veidt identified himself as Jewish on Nazi questionnaires as an act of protest. [3] This may be the source of inaccurate claims that he either converted to Judaism or was Jewish by birth. [4]
Selected filmography
Edit
References
Edit
References
Edit
External links
Edit